Rabindranath and Tagore
https://bhavaproject.weebly.com/tagore--baul.html
Nabani Das Baul was a great Yogi who composed music for Rabindranath Tagore's poems and wrote many songs. It is through him that Tagore became so deeply interested in the Baul movement.
In popularizing the music of the Baul, Nabani das Baul opened the doors for his people to the world. He brought them from the huts where they resided in rural Bengal to the spotlight where their wonderful talents and beautiful songs gained the notoriety and recognition they deserved.
https://worldmusiccentral.org/tag/nabani-das-baul/
Photo by Rabindranath Tagore
Padma Sri Baul Samarat Purna Das Baul on his father 'Nabani Das Khyapa Baul and Rabindranath Tagore'.
"My father would say that Tagore was very spiritually oriented.

However, many of his thoughts on spiritualism were scattered.

It was in order to bring these thoughts into a trajectory that Tagore required my father, Nabani Das Khyapa Baul.

Tagore would look up to my father both as a friend and as a guru.

My father taught him the various philosophical discourses of Baul. As such, Tagore had accepted my father as a guru who could initiate him into Baul philosophy.

At times, Tagore would see my father as a friend, at other times, as a guru.

It was from a sense of deep respect Tagore had for my father that he gave him the name 'Khyapa Baul.' My father too had told him jokingly, "You call me Khyapa Baul and I shall call you Robi Baul!"

They had a relationship which was based on the exchange of philosophical and spiritual ideas. That is why Tagore had a specific regard for my father, Nabani Das Khyapa Baul. My father was a constant presence at the Tagore household.

Whenever Tagore would stray, even a bit, from the trajectory of his thoughts, he would call for Nabani Das Khyapa Baul. "
Grandson Babu Kishan on World Music Central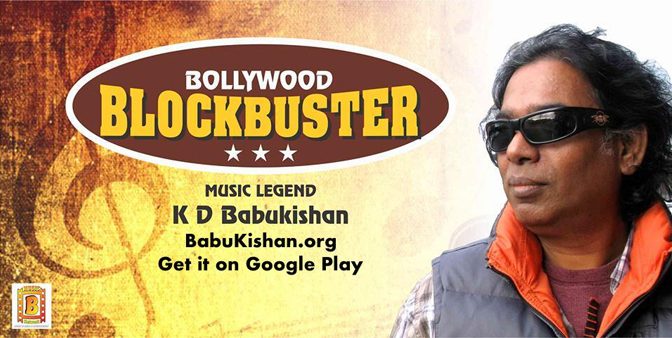 MULTIFACETED INDIAN MUSICIAN BABU KISHAN RELEASES 32 ALBUMS ON GOOGLEPLAY
GooglePlay
has just released 32 albums from acclaimed award-winning music composer of Baul, Bollywood, folk, Indian Classical and world music Babu Kishan, also known as Krishnendu Das.
The recordings include 50 years' worth of music composed and now re-released including world music, folk, Bengali, Baul, Indian spiritual kirtan, bhajans to top Bollywood acts, including Kumar Shanu, Udit Narayan, Anuradha Paudwal, Kavita Krishnamurty, Shaan, Sadhna Sargam, Poornima and many more.
Babu Kishan is a multi-instrumentalist, who plays 15 instruments, has produced 60 albums, composed 150 musical scores for Indian Cinema, and has released more than a thousand albums working for India's top music companies including manager A&R/ Consultant at India's popular music & film companies like CBS, Tips music, Gramophone Company, Time, ABCL.
He is the eldest son of the legendary Purna Das Baul who introduced Baul to India and the world more than 70 years ago. Babu been preserving his mystical tradition of Baul from Bengal for 45 years. Others follow him and his lineage, they do not follow anybody. He recorded and composed the music for most of his father's Baul music and has performed since the early 1970s traveling around the world with his father.
Raised by his grandfather, the legendary Nabani Das Khyapa Baul, who was Rabindranath Tagore's Baul Guru, what the Bauls are singing today is the music of his renowned family.
Born an oral Sanskritist and musician, he speaks many languages and has composed music in 12 languages, traveling to more than 100 countries and collaborating with Bob Dylan and The Band whom he toured the United States of America 40 concerts in the mid 1980's. He has jammed with The Rolling Stones, Third World, Brian Wilson of the Beach Boys, George Harrison of the Beatles and many more. He has toured with Ravi Shankar and Ali Akbar Khan, Sultan Khan, and Zakir Hussain.
Babu Kishan is a prolific poet and has written thousands of songs and composed music for most of India's top legends. The 32 albums released on GooglePlay are focus on some of his compositions.
Babu Kishan's new book on his world of music be released later this year, Baul to Bollywood to the World, historical Baul, who made a Greatest platform and preserved so can be much easier for new Bauls and the world.
He has a master in Indian Music from Calcutta University and has been a Indian Cultural Ambassador and world music pioneer since the 1970s. Babu Kishan was awarded the youngest Music Composer in Bengal in the 1970s at just 11 years of age. Bollywood lifetime Achievement Award in 2007.
More at
www.BabuKishan.org
Artist Profile at World Music Central Babu Kishan
Krishnendu Das (a.k.a. Babukishan) is a music designer, singer and author from India. He was born September 27, 1962.
Babukishan comes from a family background of traditional folk music artists. His grandfather, guru shri Nabani das Baul, worked with the great poet Rabindranath Tagore. His father is the legendary baul Samrat purna das, Purna Das Baul, the first baul singer (folk singer) of India who spread this culture throughout the world.
At an early age, Babukishan joined several youth folk festivals that traveled throughout the world from 1980 to 2002 as music composer, musician and singer. He also toured with Bob Dylan's The Band East & West tour in 1985. In addition, Babukishan has performed with other international artists such as Alice Cooper, Tom Petty, Miles Davis, Dharma Bums, Allan Fakir, fusion band Sosoo, George Harrison, Herbie Mann, reggae group Third World, Robbie Robertson, Garth Hudson and many others.
Babukishan has also worked with top Indian musicians/singers and music directors such as R.D.Burman, Zakir Hussain , V. Laya, Shankar.
As a composer, Babukishan has written the music for several albums, TV serials and films, earning a good reputation as one of the most promising composer in the Bollywood (Indian cinema) music &film industry of India. In his recordings, Babukishan features folk music, romantic songs, pop songs, ghazals, Qawwali music, new age, fusion, Sufi music and bhajans (devotional songs).
He is the first singer and music composer from the rich baul family tradition to venture into fusion music by combining baul/sufi music with western music and reggae music. Babukishan produced and directed two documentary films about folk music and he wrote a book titled "The Bauls of Bengal." Babukishan founded the band "Birds" that combines new age, world music/traditional folk and fusion music.